Montréal, April 22, 2015
The city of Sainte-Julie joins the Electric Circuit with two public charging stations, including a fast-charge station on Highway 20
Announcement Electric Circuit and city of Sainte-Julie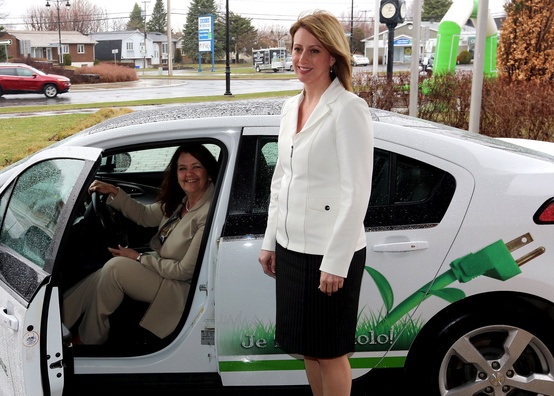 The Electric Circuit is very pleased to announce that the city of Sainte-Julie has become a partner in the network. Early this summer, the municipality will install two new public charging stations for electric vehicles: a 240-volt station at city hall at 1580, Chemin du Fer-à-Cheval and a fast-charge station, provided in partnership with Nissan Canada, on the corner of Chemin du Fer-à-Cheval and Rue Nobel, along Highway 20.
"The city of Sainte-Julie has made a commitment to its citizens to provide them with a quality environment and distinguish itself as a green city by giving priority to initiatives such as the purchase of hybrid and electric vehicles. We will take advantage of the installation of the charging stations on our territory to introduce a third one at city hall for our employees as part of the Branché au travail program," stated Suzanne Roy, mayor of Sainte-Julie.
"We are very pleased with the decision by the city of Sainte-Julie to provide a fast-charge station and a 240-volt station for Montérégie motorists and visitors," affirmed France Lampron, Director – Transportation Electrification at Hydro-Québec, on behalf of the Electric Circuit partners. "We applaud Sainte-Julie's leadership and warmly welcome the city as a partner in the Electric Circuit. Initiatives like this one and the invaluable collaboration of Nissan Canada enable us to support the arrival of the ever-increasing number of electric-powered vehicles on our roads."
A rapidly growing network of fast-charge stations
In addition to the planned fast-charge station in Sainte-Julie, eight Electric Circuit fast-charge stations are already in service and more will be added this year in some 20 locations, including Québec, Lévis, Saint-Jean-sur-Richelieu, Drummondville and Magog. Nissan Canada will support the commissioning of the first 25 fast-charge sites installed in 2015.
The Electric Circuit
The Electric Circuit is the largest public charging network in Québec. It is a major initiative in the implementation of the infrastructure required to support the adoption of plug-in electric vehicles in Québec, with some 400 stations, including 8 fast-charge stations, in parking lots of the AMT and several RONA stores, Metro grocery stores and St-Hubert restaurants throughout Québec. Since its launch in March 2012, 107 private and institutional partners have joined the Electric Circuit, and the network now has over 4 000 members.
Electric Circuit users have access to a 24/7 telephone help line run by CAA-Québec, as well as a charging-station locator service. The Electric Circuit Web site theelectriccircuit.com and the mobile app for iOS and Android are updated as new stations are commissioned.

For information
Louis-Olivier Batty
Hydro-Québec, for the Electric Circuit
514 289-4214
batty.louis-olivier@hydro.qc.ca
Julie Martin
Coordinator
Service des communications
et relations avec les citoyens
Ville de Sainte-Julie
450 922-7091
jmartin@ville.sainte-julie.qc.ca
Top of page